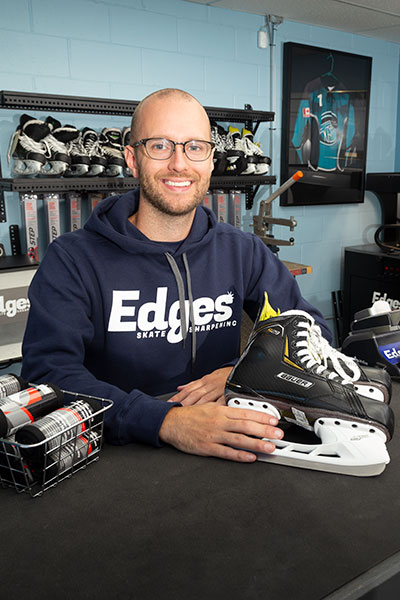 Edges is Milton's only specialty skate sharpening and blade contouring skate shop. Owner Kyle Hicks brings with him over a decade of experience behind the sharpening wheel and a true passion for helping skaters of all ages and levels perform their best on the ice.
After sharpening thousands of skates, Kyle knows the right combination of tools, machinery and technique to provide a unique and superior sharpening that you won't find anywhere else. Being a lifelong hockey player himself, he knows that a good sharpening can make all the difference in the confidence a player has on the ice. An Edges skate sharpening will let you feel the difference from the moment you take your first stride.
It was always a dream of Kyle's to run his own skate sharpening shop. A shop where players can not only get the best skate sharpening, but can also stock up on hockey essentials like laces, tape, wax and more. Kyle is excited to grow with Milton's strong hockey community for years to come.